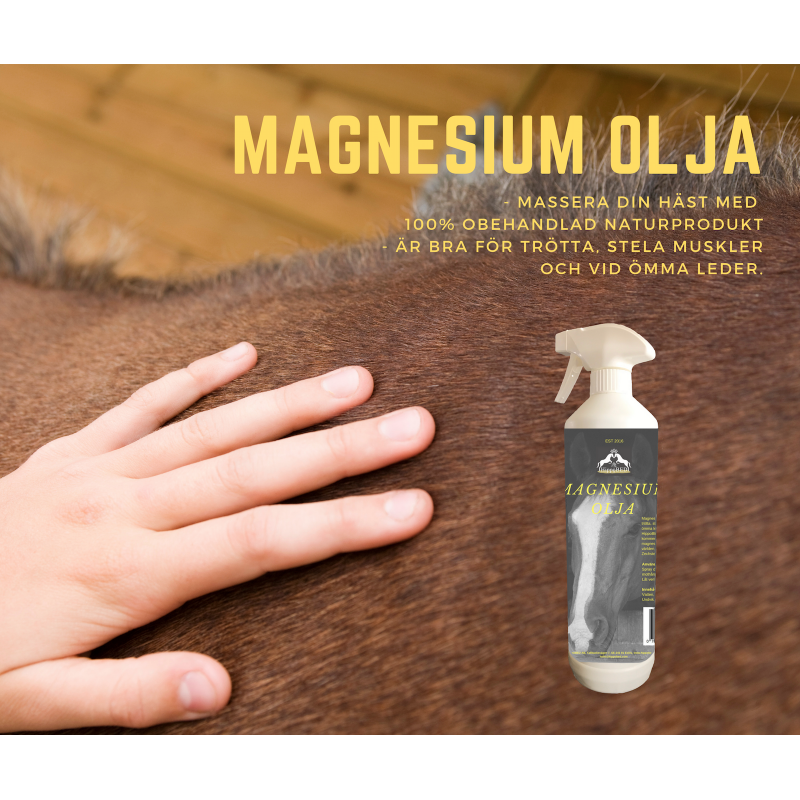  
Magnesium olja - massage oil for horses - 750ml
HippoBED Magnesium oil is good for tired, stiff muscles and at sore joints.
HippoBED magnesium oil
HippoBED Magnesium Oil for Horses is a 100% untreated natural product, which was developed especially for the care.
In the production of our magnesium oil, we completely abstain from fragrances, colors and preservatives. The HippoBED magnesium oil is therefore very compatible on the horse's skin.

The magnesium oil is not, as it first suggests, an oil, since only pure water and the pure and untouched magnesium chloride from the Zechstein Urmeer are used for the production. HippoBED Magnesium Oil leaves no greasy residue.

The HippoBED magnesium oil comes from the purest magnesium chloride source in the world, the Zechsteiner Urmeer.

About 250 million years ago, this was trapped by shifting the plates about 1,800 meters underground, where it is still isolated from the outside world and thus isolated from harmful environmental influences. Since 1984, the magnesium can be brought to light.

Magnesium oil has long been very popular in human use, but its use in animals is increasingly being carried out and recommended by horse osteopaths and physiotherapists.

HippoBED magnesium oil has an oily consistency which makes the horse's massage easy to handle.

HippoBED Magnesium Oil is doping-free.

Magnesium oil helps to relax the muscles before and after training, as well as during regeneration.

HippoBED magnesium oil also helps to stimulate the musculature through the massage, even in the case of illness-related "chest rest", and is therefore an important component of recovery.

Since HippoBED magnesium oil is absolutely doping-free for horses, it can be applied without hesitation to competition horses.

Our massage oil for horses can provide a relaxing reward after an exciting day of regeneration and relaxation.

But even in the training phases, our massage oil is an optimal companion.

After training, it can assist with a horse massage and thus help the muscles to relax and regenerate. Thus, the bond between horse and rider is strengthened, because you can relax a little bit together after training thanks to our horse massage oil.

Since the HippoBED magnesium oil is supplied in a practical PET bottle, it is also a popular companion on trail rides, because it can not break and does not run out.

In addition, our horse massage oil offers again and again a nice stage finish to revue the past hours and kilometers together.

However, our horse massage oil is not only suitable for the very athletic and tournament enthusiastic horses and riders, but also for recreational riders to spend time together and to strengthen the horse-rider connection. Even for a riding-free day, a relaxing massage offers plenty of closeness to your darling and actively supports the cuddle time.

Horses that enjoy illness due to illness or age must also benefit from our HippoBED magnesium oil for horses.

Since massaging stimulates the muscles and supports the body during regeneration, our horse massage oil can also be an important companion here for the reconstruction and relaxation of the muscles.
Magnesium oil - Massage and muscle relaxants for horses.

Good for tired, stiff muscles and at sore joints.

How to use:
Spray them sore points moths and massage in.
Let it work approx. 30-40 minutes.

Table of Contents:
Water, magnesium chloride
2 other products in the same category: