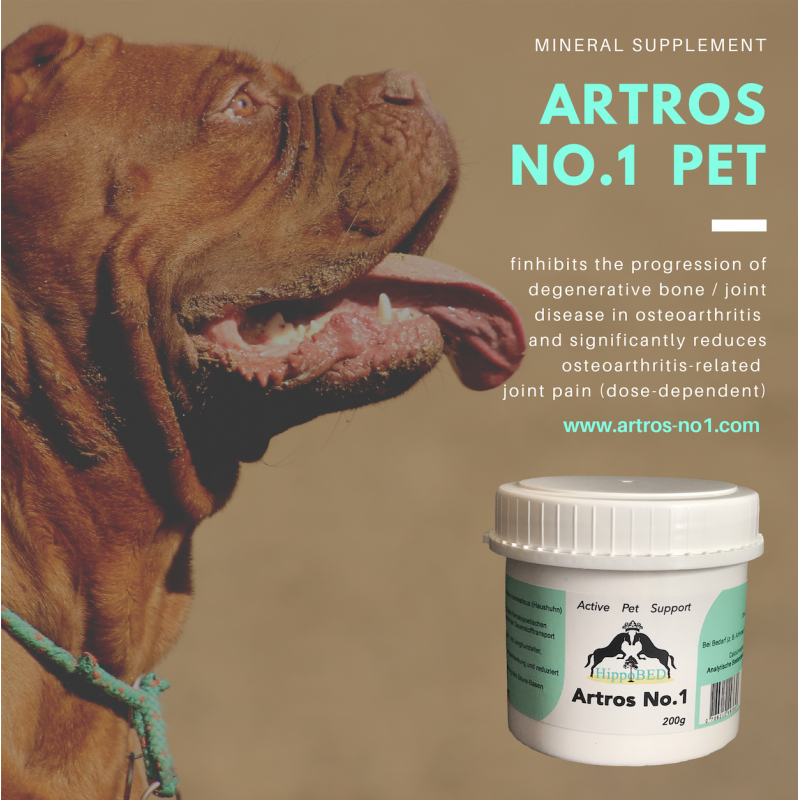  
Artros No. 1 - 200g - Mineral supplement with Calcium carbonate and micronutrients
Mineral supplement for dogs
Developed for human medicine and modified for dogs.
Artros no.1 consists of calcium carbonate and other trace elements from egg shell of Gallus gallus domesticus (domestic chicken) and is a pure natural product.
It helps to support bone and blood formation by activating the osteo-hematopoietic system, increasing bone and joint stability, and improving dogs performance through increased oxygen transportation (saturation).
It supports the increase in bone density (which is particularly useful in puppies and jubilee age, as well as in dogs with high stress.)
Artros no.1 finhibits the progression of degenerative bone / joint disease in osteoarthritis and significantly reduces osteoarthritis-related joint pain (dose-dependent).
This product supports the ideal calcium: Phosphorus ratio is the normalizations of the acid-base household and is therefore kidney-protective.
It is manufactured in a patented process and GMP certified. 
Feeding recommendation:
Maintenance dose: 5-10 grams per day

(up to 20kg dog: 5g / day and over 20kg dog: 10g / day)

over the normal concentrated feed

If necessary (eg osteoarthritis), the dose can be doubled or tripled
Composition:
Calcium carbonate from egg shell: 87.6%

Sucrose

Glycerin
Analytical components:
Calcium: 35,1%,

Sodium: 0,1%,

Phosphorus: 0,1%
Egg shell contains besides calcium other vital inorganic / organic substances:
Iron, 
Fluorine, 
Potassium, 
Silica, 
Magnesium
Enzymes: 
Porphyrin, 
Sterols, 
Vitamin D3,
as well as micronutrients
Copper, 
Molybdenum, 
Manganese, 
Selenium,
Zinc,
Produced in Germany
Keep cool and dry!
If stored properly, keep stable until: See bottom of packaging